Questions answered on retiring overseas and foreign earned income exclusion eligibility, using your tax refund thanks to the foreign earned income exclusion for a back door Roth conversion, and working abroad and contributing to a health savings account (HSA). Plus, should you contribute to Roth accounts, pre-tax accounts, or a brokerage account when nearing early retirement? Are substantially equal periodic payments (SEPP) from your retirement savings a good idea to bridge the gap between retiring early and age 59 and a half? And finally, is it ever a good time to time the market?
Subscribe to the YMYW podcast Subscribe to the YMYW newsletter

Show Notes
Free resources:

WATCH | YMYW TV: Financial Planning Must-Do's Before You Retire (part 1)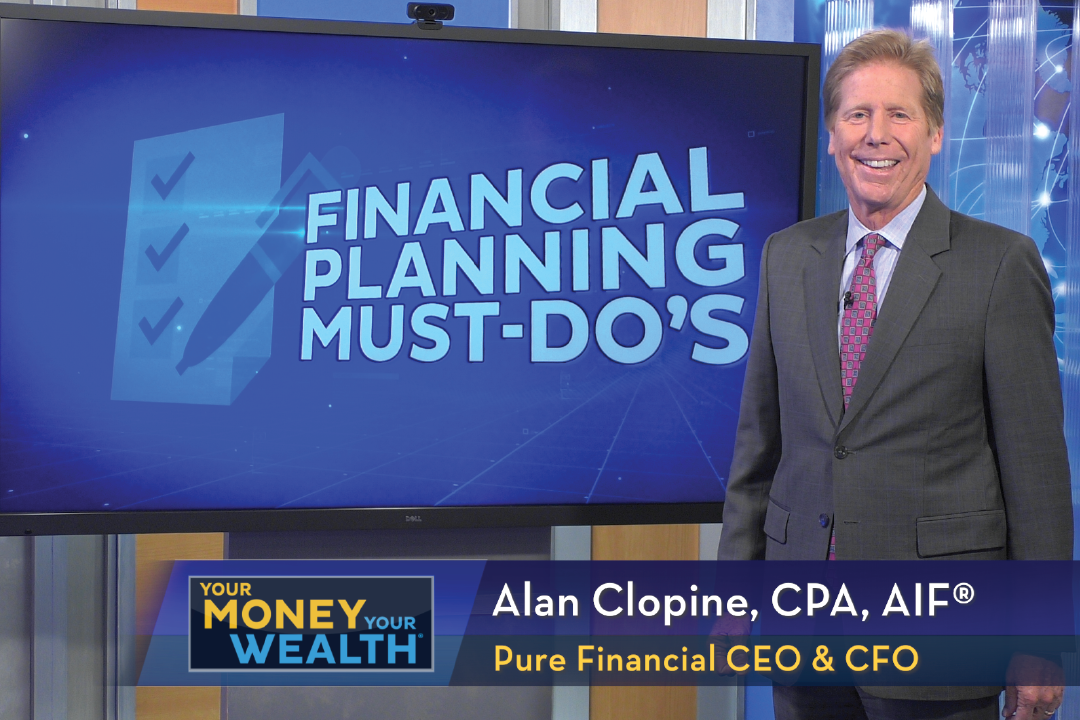 Listen to today's podcast episode on YouTube:
Transcription
It seems a number of our new YMYW listeners are working abroad or planning to retire overseas. Welcome, we're glad you found us! Today on Your Money, Your Wealth® podcast 345, Joe and Big Al answer questions on eligibility for the foreign earned income exclusion, the ability to use the tax refund thanks to the foreign earned income exclusion to do a back door Roth conversion, and using a health savings account or HSA when working abroad. Plus, the early retirement spitball analyses in episode 341 were so popular that today the fellas will spitball some more of them for you. Are substantially equal periodic payments (SEPP) from your retirement savings a good idea to bridge the gap between retiring early and age 59 and a half? And finally, is there ever a good time to time the market? Visit YourMoneyYourWealth.com and click Ask Joe and Al On Air to send in your money questions. I'm producer Andi Last, and here are the hosts of Your Money, Your Wealth®, Joe Anderson, CFP® and Big Al Clopine, CPA.
Can I Do a Backdoor Roth Conversion With the Foreign Earned Income Exclusion Tax Refund Overpayment?  (Nash, Overseas)
"To the YMYW crew, I've recently discovered your podcast and I'm disappointed I didn't find it earlier. I'm 41, married, with a newborn son! We currently live overseas as American Expats and I work for an American company. I'm expecting to qualify for the foreign earned income exclusion again for year 2021. I estimate that my gross income for 2021 will be about 245K putting me in the 24% bracket. Last year I received a tax refund of about 15K due mostly to the foreign income exclusion. I would like to do something productive with that over payment since we really don't need the refund. I have about 190K in an IRA that I would like to start converting to a Roth. In addition, I'm also planning on a back door Roth 401k via after tax contributions which should be a converted amount of around 30K (my first year doing a back door Roth conversion after hearing this talked about on your show many times).
Are there any pitfalls I need to know about regarding these plans while using the foreign earned income exclusion? My line of thinking is that if I'm getting a lower average tax rate, I should do some converting from tax deferred to tax a free account. I'm definitely up for any additional ideas you guys might have for someone in my situation. Not looking for advice of course, just starting a conversation.
Some more info on our situation if you need it. No house or mortgage. Wife is not working. Approx net worth of 1.7 Mil. We own two old beat up vehicles and have no pets, unless you count the army of dumpster cats that patrol the neighborhood.  I appreciate your time! – Nash"
Taxation When Retiring Overseas and Foreign Earned Income Exclusion Eligibility (Kat)
"I have a question on retiring to another country and doing our taxes. The country we are moving to has a program that charges a Flat Rate of 10% on worldwide income for Pensioners with Residency.  Please look at my example below and let me know if I am figuring this out correctly.
Our provisional income Social Security $30k, Pension $2k and Investment income $20k = $52,000. I am not retirement age yet, so SS and Pension are for my husband only.  Since we file jointly/married and the provisional income is over the $44,000 limit, my husband's SS would be taxed at 85% correct? So TOTAL we would be taxed in the country we are living in at their 10% flat rate would be $47,500. $47,400 x 10% = $4,750 we would owe correct?
Then 2nd part of question… after we pay taxes in country we reside, we would file in the US and could we receive the "Foreign Earned Income Exclusion"?
Thank you in advance…. Please let me know if I am figuring out this correctly 🙂 KAT"
Can I Use HSA as an Investment Vehicle as an American Abroad? (Jeff, Overseas)
"Al and Joe, (HSA QUESTION…not a ROTH)
A few weeks back you answered some of my questions regarding living overseas and investing, SUPER HELPFUL. I have one additional follow-up. Is there anything in the tax code that would prohibit Americans who live abroad from contributing to an HSA account if: 1) their medical plan meets HSA eligibility as a high deductible plan and, 2) their plan has worldwide coverage (CIGNA), including in the United States? I could not "see" anything in Tax Publication 969 that indicates we can't? As always your "thoughts" are much appreciated.
We plan on using the HSA as an investment vehicle. We will be paying all medical bills with our U.S.-based credit card while working overseas to keep track of medical expenses in U.S. dollars for later use (one retired) when we decide to pull funds from the HSA. Kind regards, Jeff"
Alright so here's the thing. On YMYW, Joe and Big Al can help you rough out some strategies to stretch your dollars from here to overseas to retirement, but obviously, you don't want to base important decisions, or your entire financial future, on a spitball analysis and best guesses! Schedule a free financial assessment with one of the CERTIFIED FINANCIAL PLANNER™ professionals on Joe and Big Al's team at Pure Financial Advisors to begin building a clear financial plan for your retirement. Like the YMYW podcast, this assessment is free. But unlike the podcast, a financial assessment is a one-on-one, comprehensive, deep dive into your financial life to help you make most of what you've got, based on where you're at now, what you want to accomplish, and how much risk you want to take to get there. Click the link in the description of today's episode in your podcast app to go to the show notes, then click Get an Assessment to schedule yours. 
Mega Backdoor Roth or Brokerage for Early Retirement Savings?  (Susie, Brookfield, WI)
"Hi, Susie from Brookfield, a city in Waukesha, WI, one of your favorites. Fav beer is Spotted Cow (its brewed in WI, hope you have tried it Joe?); Fav drink is Titos and tonic. Have driven various Lexus for last 10 years. Married, two kids in college (funded), and have the best yellow lab. Love your podcast! Information: We are both 50 and plan to retire from corp America at age 55 when I qualify as retired for equity and retiree medical. Current balances are $500K after tax (roth, HSA, cash, brokerage) and $3M in pre tax (1.4M in 401k/403b, 600K in company equity, $1M in est. lump sum DB pension value at age 55 (have annuity options to evaluate but planning to take the the lump). Annual spending is ~ $120K. We will have subsidized pre-65 healthcare at age 55, unless company takes it away in the next 5 years so fingers crossed that annual spend holds. No debt but thinking about a 2nd home in FL in the next few years. We will have our highest taxable income this year of $465K (340 base, 75 bonus and 50 option exercises). As such, still shoveling money into pretax vs Roth. However, thanks to your podcast I did my first $10K in plan conversion last year up to top of LY 24% tax bracket.
Question: Would you alter my plan to continue with pre-tax in savings plan up to limits and let the overflow go to brokerage account? (I have back door option but limited to 16% of 200K, husband is not but not sure if he has back door or not in his 403b?) I will likely use any unvested equity income to live on the first few years but we will have 17 years of annual spending before RMDs are required or social security kicks in so plan to take from pre-tax to bleed that down to live on and still stay within the 22% tax bracket.  Spit ball away for us please! TY!!"
Where to Contribute Savings for Early Retirement? (Gilbert, Los Angeles)
"Hi, I love your show. It's the first podcast I listen to when it shows up in my podcast queue. I drive a 2011 Infiniti G37s, It's only the second car I've owned because the last car I drove for 20 years.
My wife and I are 51 years old and planning on retiring when we turn 55. We have about $3M in 401k plans, $1M in traditional IRAs, $300k in Roth IRAs, $200k in a brokerage account and $200k in savings accounts. Our mortgage is nearly paid off and we have no other debt. We will use about $150k of the savings account in the next year or so to do a kitchen remodel so that will suck up much of our cash. I believe we will have plenty to cover retirement expenses of approx $120k/year as we will collect a $50k/year pension at 55 and $90k/year in social security when we turn 70 (that includes the fact that we will stop working at age 55). The shortfall we will draw from our retirement accounts which are currently allocated at 75% equities/25% bonds.
Our current income is $360k/year and we currently max out our 401k contributions ($52k including the catchup contribution) and HSA account, but I was wondering if we should only contribute enough to get the company match and put the rest of the money in the brokerage account for tax diversification for the next 4 years. I hesitate to make Roth 401k contributions or conversions right now because my thought is that we should try to accumulate in our after-tax account right now. I would love to know your thoughts. Thanks!"
You know, inflation is another important factor to consider as you're determining where to squirrel away those dollars for retirement. How might rising inflation impact market returns, your investment portfolio, and your retirement plans? Is higher inflation likely, or is weaker economic growth a bigger risk to your portfolio? Get answers to these questions in our brand new white paper on Inflation and the Markets, available for a limited time in the podcast show notes at YourMoneyYourWealth.com. Click the link in the description of today's episode in your podcast app to go to the show notes and download this new inflation white paper for free. While you're there, check out the latest from the Your Money Your Wealth television show- it's a can't miss two-parter called Financial Planning Must Do's Before You Retire. And if you like the podcast and the TV show and the free financial resources, why not share them?
Am I A Good SEPP Candidate for My Early Retirement? (JP, Northern VA)
"Hello, Ms. Andi! I hope you get paid extra for putting up with the boys. It sounds like they can be a handful at times. This is JP from northern Virginia. I'm a YMYW new listener … and not much of a drinker. Mmm, water. My wife and I are 46. With $3 million in my retirement savings accounts, I'm seriously considering my options for retiring at age 50. I'd probably be looking at a 40-year retirement for planning purposes.
The investments in my retirement accounts are currently 80/20 equities-to-bonds (all index funds) and seem to be growing at an annual rate that exceeds my $120K gross salary. If I were already 72, I think my total RMD for this year would be close to my current salary … and I've got 26 years of potential growth to come before those distributions kick in.
Pre-tax 403(b): $2 million ($500K in intermediate bond fund, %20 of entire portfolio)
Pre-tax 401(a): $700K (entirely employer-funded)
Roth IRA: $400K
Roth 403(b): $14K (just started in January 2021)
No pension, no real estate beyond primary residence, $1K brokerage (also just opened in 2021), some savings, but nothing significant beyond a household emergency fund.
The wife doesn't believe she has enough money saved for retirement (just over $1 million, nearly all pre-tax; she may also have a pension as a federal employee). Therefore, she's thinking she'll work until she's 55. She currently earns $180K annually, having surpassed my annual income within the last few years.
RMDs aside, I think we'll be OK once we're 59.5. I'm just wondering if I can do anything else to take advantage of my retirement funds in the 10 years prior, without significant penalties (like the 10% penalty for early withdrawal, for example).
Our outstanding expenses are the mortgage on our residence ($400K, on pace to be paid off when we are 59/60) and, hopefully, sending two kids to college ($100K already in college 529 accounts, adding another $10K a year per kid) starting in 2026 and 2032. No plans to relocate or spend too lavishly once retired.
Am I a good candidate for SEPPs based on 72(t) calculations for generating income close to my current salary (give or take $20K)? Would pursuing SEPPs for 10 years really screw up my retirement savings for life after 59.5? Or … are my "early retirement" income options limited to saving and investing as much as I can for the next five years in the Roth 403(b) and taxable accounts? Thanks!"

Clarification: FIRE and Social Security Calculation (Barbara, NE)
"I heard on your Aug 31 podcast those that FIRE before retirement age and don't begin taking SS until 67 or later, that their benefits are lower. I think Al said the caller's $4400 per month benefit would be more like $3000. This person was currently wanting to FIRE at 55. If this person has the 35 years, where did you read they would not recieve their full benefit amount? Signed me, future FIRE (age 57) and more than 35 under her belt!"

Is There Ever a Good Time to Time the Market? (Gary, El Cajon, CA)
"Is there ever a time when it's time the market?"
_______
Percentages and beer – specifically, Spotted Cow and Sierra Nevada – in the Derails at the end of the episode, so keep listening.
Subscribe to the YMYW podcast Subscribe to the YMYW newsletter
Your Money, Your Wealth® is presented by Pure Financial Advisors. Sign up for your free financial assessment.
Pure Financial Advisors is a registered investment advisor. This show does not intend to provide personalized investment advice through this broadcast and does not represent that the securities or services discussed are suitable for any investor. Investors are advised not to rely on any information contained in the broadcast in the process of making a full and informed investment decision.