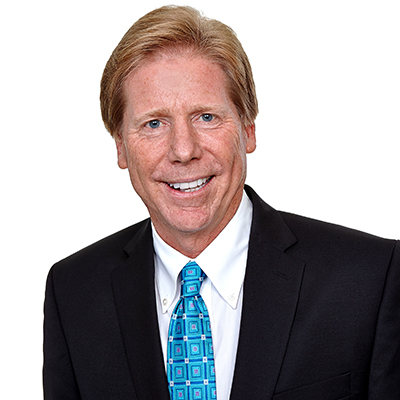 Contact Information
Certified Public Accountant
Accredited Investment Fiduciary
BIOGRAPHY
Alan Clopine is the CFO & Chairman of the Board of Pure Financial Advisors. He has been an executive leader of the Company for over a decade. As CFO he is responsible for the financial operations of the company as well as investor relations. Alan joined the firm in 2008, about one year after it was established.
Prior to joining Pure Financial Advisors, Alan was the founding and senior partner at Clopine & Associates, LLP; a CPA firm established in 1987 and located in San Diego. In addition to providing traditional tax and accounting services for successful individuals and businesses, the firm specialized in real estate, technology, and small business tax planning. The firm was consistently ranked in the top 50 CPA firms in the San Diego Business Journal, "Book of Lists."
Alan has provided tax planning services for individuals, corporations, and trusts for over 35 years. Another of his functions at Pure is directing the tax planning department to recommend and implement integrated tax planning strategies to reduce current and future income taxes. Alan is the co-host of Your Money, Your Wealth®, a financial talk radio show, heard weekly in San Diego on KFMB as well as on podcasts. The show launched its television debut in 2014 and is currently aired weekly on CBS in San Diego.
Alan received a bachelor's degree from the University of California, San Diego in 1979 and received his CPA certification in 1984. He currently volunteers as president of Vida Joven, a non-profit organization that supports an orphanage in Tijuana as well as various activities at St. Peters Episcopal Church. Prior volunteer activities have included over ten years of coaching youth sports in baseball and soccer. Alan enjoys time with friends, travel, staying fit, hiking, golf, and hanging with his family. Alan is married to Anne and has two sons named Rob & Ryan.
Alan's Latest Contributions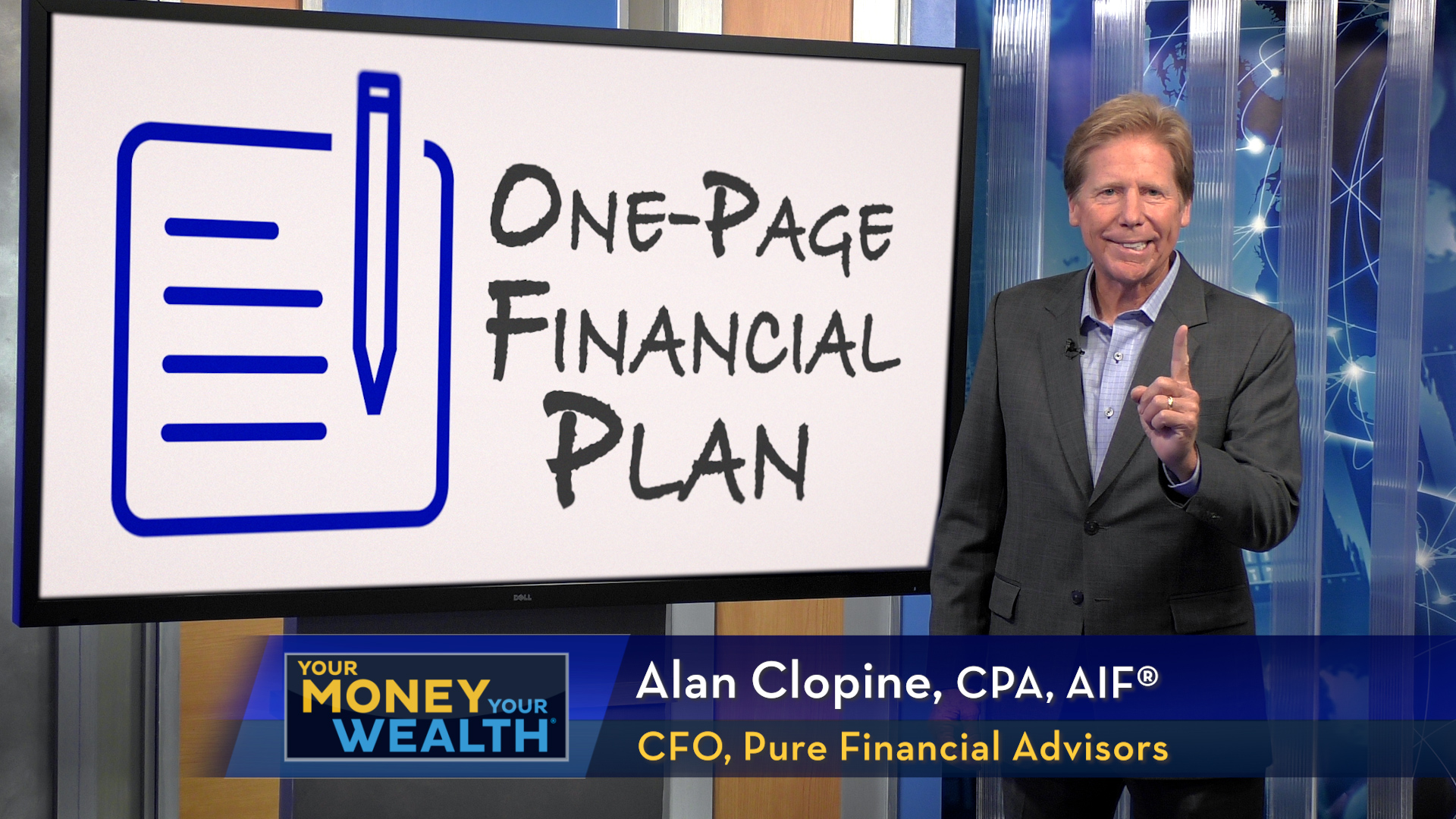 SEASON 8, EPISODE 14
What one thing can you do today to change the course of your financial future? Having a written financial plan can dramatically increase the chances you'll reach your retirement goals. Yet, according to Schwab, only 33% of Americans have one! A One-Page Financial Plan helps distinguish the overlap of things that are actually important and […]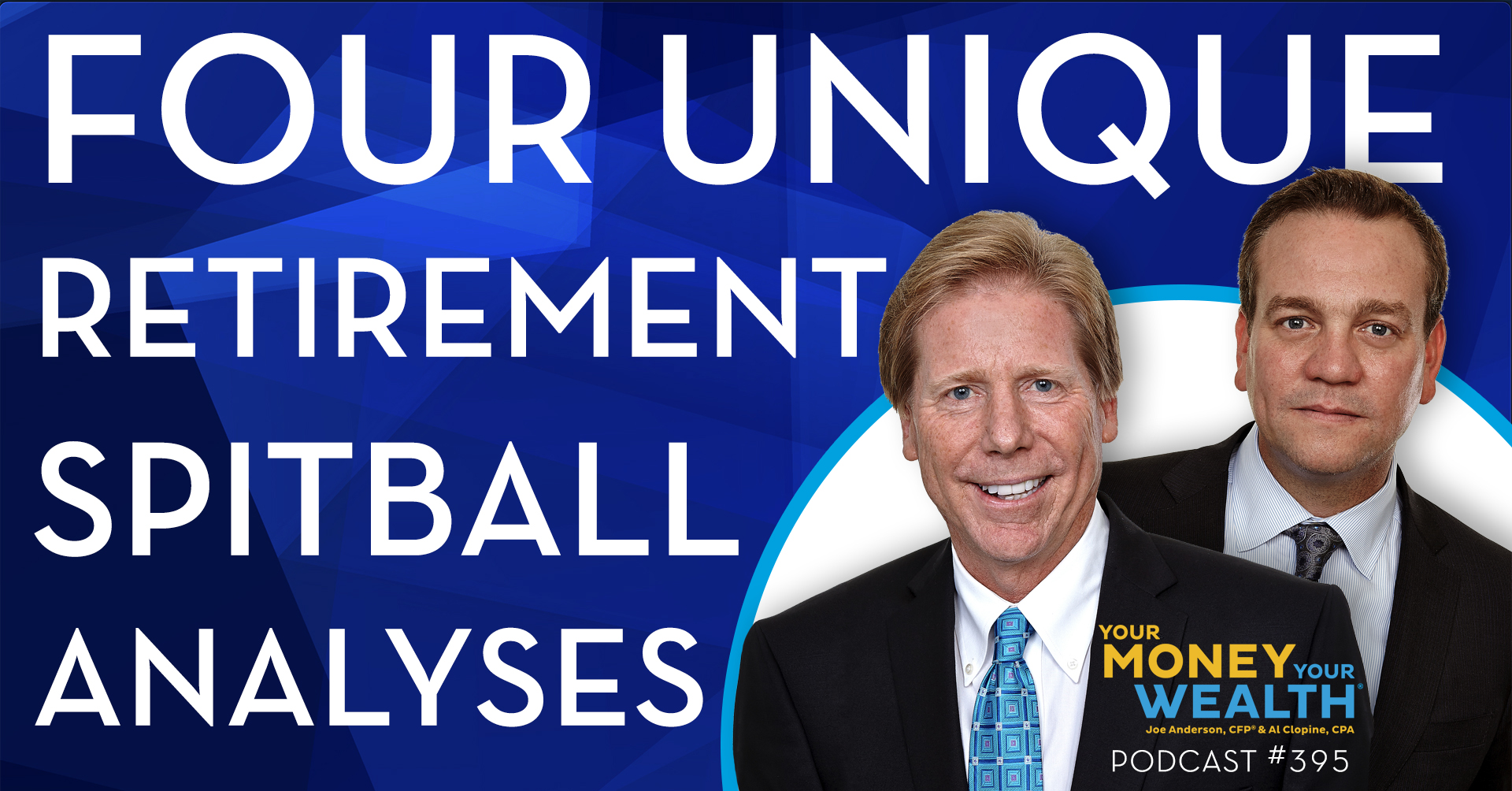 What's the next move for a 22-year-old who wants to retire early at 50? Can another YMYW listener afford to retire by the ocean in 10 months? Can Flowergirl and her husband AND her boyfriend retire next year? Joe and Big Al also check extensive retirement spitball math sent in PDF format. Plus, what are the fellas' philosophies on single vs. married tax rates when one spouse passes, and how does high state income tax impact a retirement strategy? 
Subscribe to the YMYW podcast Subscribe to the YMYW newsletter
LISTEN on Apple Podcasts | Google Podcasts | Stitcher | Player FM