Decision 2020: Your Vote and Your Money
---
Welcome to Decision 2020: Your Vote and Your Money. This special series will examine the outlook for November's elections, the potential impacts on markets and taxes, and steps you can take now to election-proof your finances. Make sure to check back often so that you don't miss any of this special series, in which we'll cover topics including:
Do Elections Even Matter for Markets?
Are Your Taxes Heading Higher?
Should You Defuse Your Tax Time Bomb?
Can You Build an Election-Proof Portfolio?
---
Part 3
Do Elections Even Matter for Markets?
Welcome to the third part of this special series Decision 2020: Your Vote and Your Money. In the first installment, we examined the race for the White House, as well as where the candidates stand on some important economic issues. Part Two focused on the legislature and took a closer look at the outlook for the House and Senate races.
So. The bottom line is that we will soon know who the next President of the United States is. We will also know which party has control of the United States Senate and the House of Representatives. But, the million, billion, trillion-dollar question is: Does it matter?
Most people seem to think that it does because an overwhelming majority expect the election outcome to have an impact on their investing habits.

But is this the right course of action? Should 84% of people change their investing habits based on the outcome of the upcoming election? In other words, depending on what happens with the election, what changes (if any) should you make to your finances?
To begin answering those questions, let's examine the historical record and look at how markets have traditionally performed in election years.
How Have Markets Done Around Elections?
Presidential Election Years Throughout History
Calendar year performance during presidential election years (1928-2019)

As you can see both stocks and bonds have posted positive returns during election years, going back to 1928. Bonds have historically done somewhat better when a new president is elected than when the incumbent wins. The story is reversed with stocks, as they have posted stronger performance when an incumbent wins the election.
This latter point makes sense when you step back to think about it. Incumbents tend to be reelected unless the economy is in a recession or facing a crisis. As such, an incumbent victory usually points to a relatively sanguine economic backdrop, which is often good for stocks. But the bottom line is that, at least based upon the historical precedent, there is no reason to abandon financial markets just because there is an election at hand.
Ok, you may be saying, performance looks good during an election year. But it's the aftermath of the election I'm concerned with. What happens in 2021 and beyond?
Well, I don't have a crystal ball so I can't tell you what the future holds, but historically there isn't any evidence that stocks consistently decline following an election. In fact, there have been thirteen years in which stocks rose in value in the year after an election and ten years in which they fell following the election. Furthermore, it doesn't seem to matter whether the winner of that election was a Republican or Democrat.
Returns During and After Election Years
S&P 500 Index: 1928-2017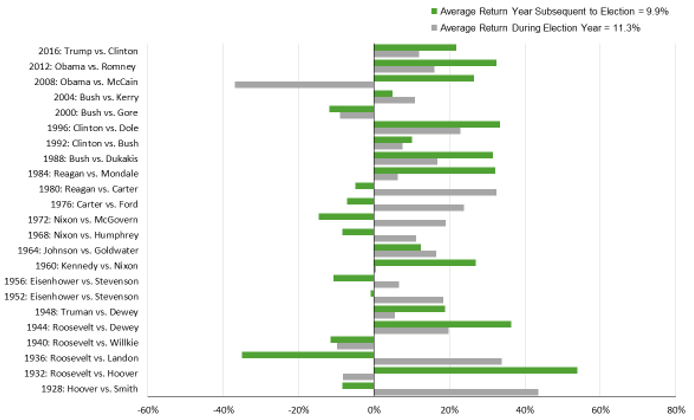 So, to summarize what we've covered so far:
Stocks and bonds have historically risen in election years
In the year following an election, stocks have risen slightly more often than they've declined
There does not seem to be a linkage between which party wins the election and financial market performance in the subsequent year
With all that in mind, we'll turn our attention now to how markets have performed throughout Presidential terms, rather than just immediately before and after an election.
Stocks Go Up Under Most Presidents
As you can see in the chart below, stocks have risen under most Presidents, with Herbert Hoover the most notable outlier. As a reminder, Hoover was President for the stock market crash of 1929 and the start of the Great Depression.
Stocks Rise Under Most Presidents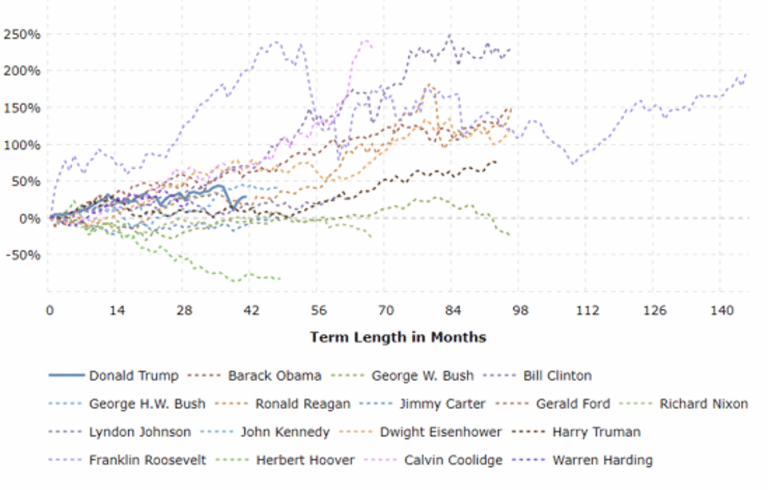 Breaking the numbers down further, we see that not only have stocks risen under most Presidents, they have also risen during most Presidential terms. In other words, markets have tended to go up during each four-year Presidential term, regardless of whether a new President or an incumbent was in office.
Annualized Returns During Presidential Terms
S&P 500 Index: 1929-2019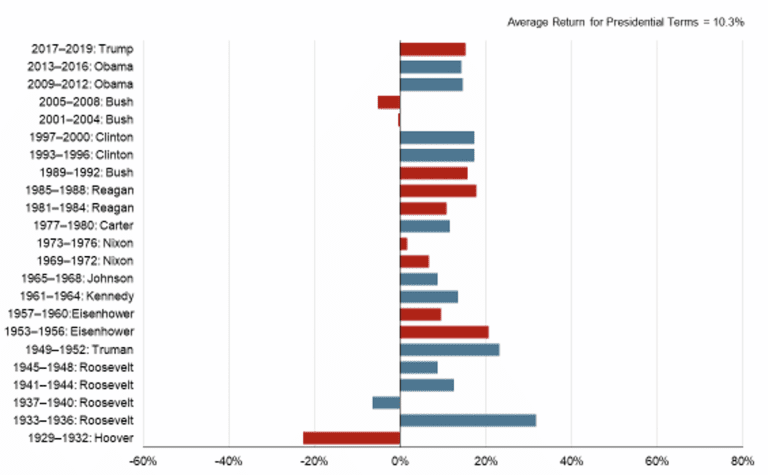 It makes sense then that when we look at a long-term chart of the stock market, we see relatively consistent upward progress, regardless of which party was in power.
Markets Have Rewarded Long-Term Investors Under a Variety of Presidents
Growth of a dollar invested in the S&P 500: January 1926 – December 2019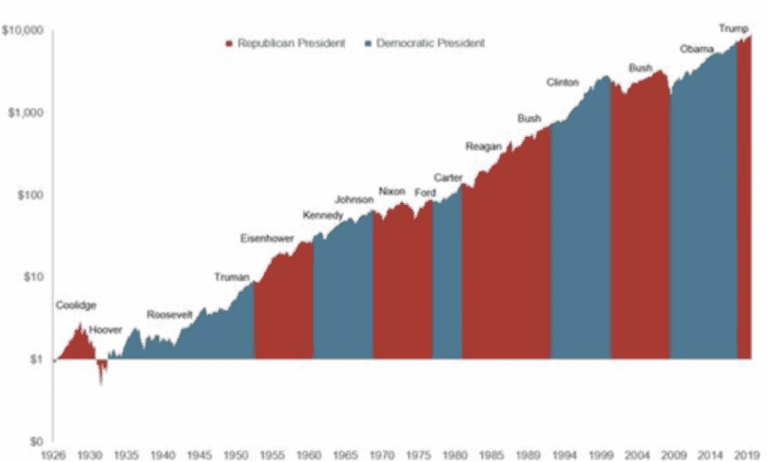 Well, What About Congress?
Of course, in addition to the race for the White House, there are also Congressional elections in 2020. So, let's look at how stocks have done with different parties in control of Congress.
Hypothetical Growth of $1 Invested in the S&P 500 Index and Party Control of Congress
January 1926 – December 2019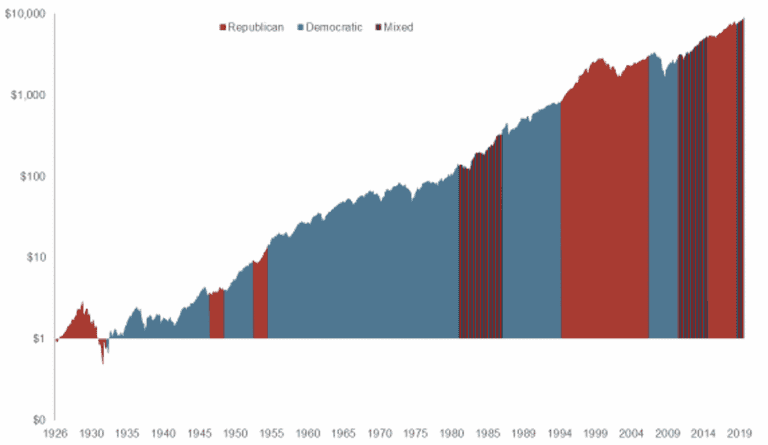 When we shift our focus to the legislature, the result is consistent with what we see from different Presidents. The stock market, as measured by the S&P 500, has tended to move higher across time, regardless of which party had control of Congress. Furthermore, even a divided Congress (one party in control of the House and the other in control of the Senate) has tended to see upward movement in stock prices.
What About Other Asset Classes?
It's always important for investors to remember that it's a big universe out there and that the S&P 500 only represents one small subset of available investments. With that in mind, let's look at how a few other asset classes have performed under different political regimes.
The bond market is several times larger than the stock market. Bonds also play an important role in the financial system as they are one of the primary means with which companies fund their day to day operations. Many institutional investors also rely on bonds to provide relatively stable returns to meet their obligations to pensioners, retirees, and a host of other stakeholders. Therefore, it makes sense to look at how bonds have performed under different Presidents.
For bonds, we will examine the Bloomberg Barclays US Aggregate Bond Index, which is the leading benchmark for the asset class.
Annualized Returns During Presidential Terms
Bloomberg Barclays US Aggregate Bond Index: 1977-2019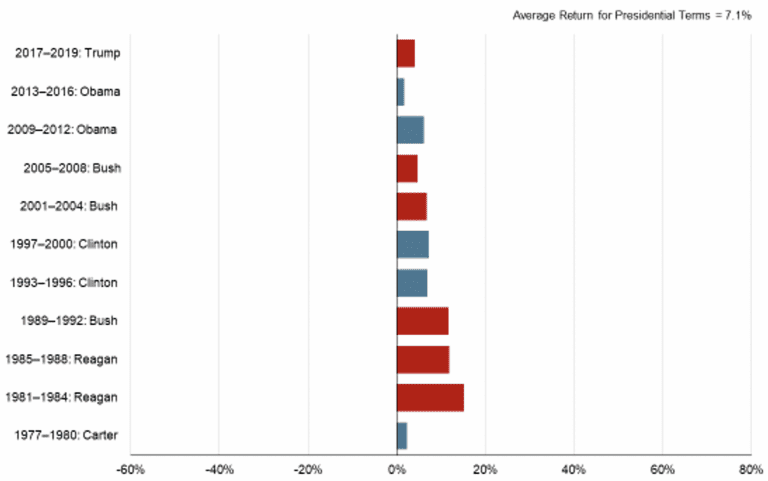 As you can see, bonds have risen under every President going back to Jimmy Carter. This isn't necessarily surprising given that investment-grade bonds tend to grow at a slow and steady pace, without extended periods of significant volatility. Nevertheless, it is good to see that the historical record supports the logical conclusion that the bond market may do ok regardless of who sits in the White House.
So far, we've been focusing on the U.S. markets. But we live in an integrated world, and global investing makes sense for most people. So, let's take a quick look at how international markets have done under a variety of Presidents. While it is important to note that foreign countries obviously have their own idiosyncratic factors at play, the United States is the world's dominant country, and so it makes sense that the direction the U.S. moves in will have an impact on other nations, their economies, and their financial markets.
Nevertheless, we see that international markets, as measured by the MSCI EAFE Index for developed nations, and the MSCI Emerging Markets Index for developing nations, have generally risen under most U.S. Presidents. (Please note that due to data availability, the time periods measured for international stocks differ from those used to measure U.S. stocks.)
Annualized Returns During Presidential Terms
MSCI EAFE Index¹: 1973-2019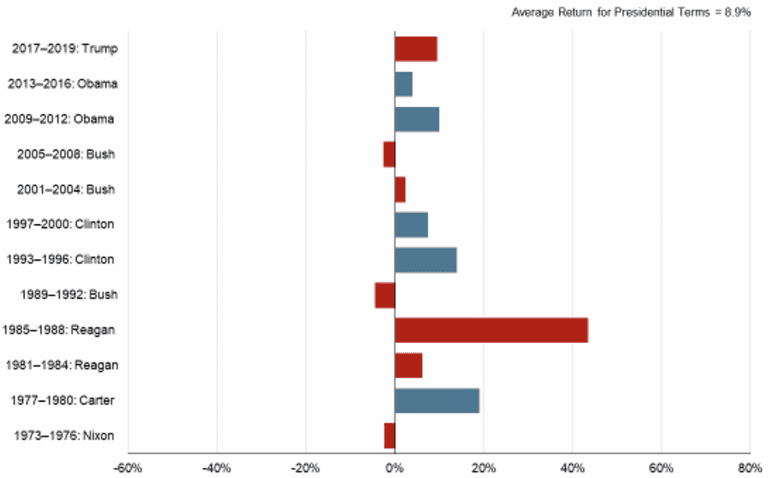 Annualized Returns During Presidential Terms
MSCI Emerging Markets Index¹: 1989-2019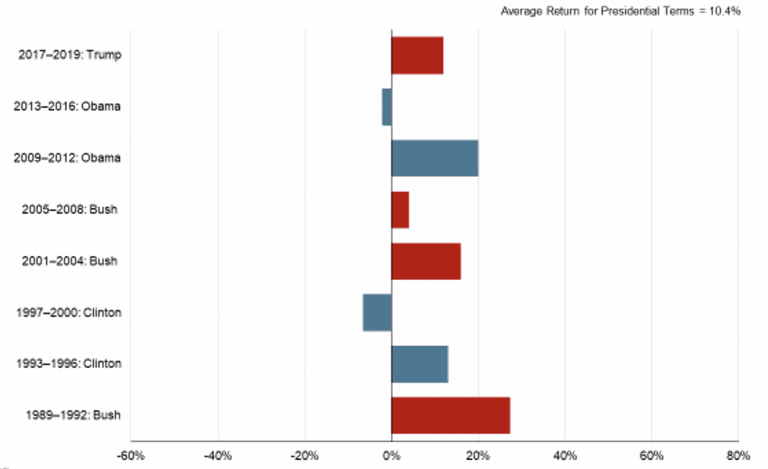 What If Your Candidate Doesn't Win?
Before concluding this look at historical market performance and elections, it is important to make one more point. Many people hold strong views on what direction the country should move in. This is all well and good, and the ability to have strong views and then make your voice heard at the ballot box is one of the great honors and privileges of living in a free society. But it is also important to distinguish between your personal convictions around the country's direction and what steps you should take to meet your financial goals.
For instance, it would be perfectly natural to pull back from investing if you are unhappy with the outcome of the election, particularly in these turbulent times. However, doing so may not be in your long-term best interests.
That is because, as the evidence above demonstrated, stocks and bonds have generally moved higher under both Republican and Democratic administrations. In fact, if you had invested ten thousand dollars in U.S. stocks six decades ago (when John F. Kennedy, a Democrat was President), and stayed invested regardless of what party was in power, your initial investment would have grown to nearly three and a quarter-million dollars.
During this period, you would have lived through fifteen different presidential terms. Seven of those would have seen a Democrat in the White House, and eight would have featured a Republican in the Oval Office. So, if you had strong political leanings in one direction or the other, in the last sixty years you would have been unhappy roughly half of the time. And yet despite that, you'd have seen your $10,000 grow into $3.25 million.
However, if your political views lean left and you'd only invested when you were happy because a Democrat was in office, your initial ten thousand dollars would not have done nearly as well. In fact, you'd only have roughly $375,000, a nearly ninety percent reduction from the fully invested amount. If, on the other hand, your political affiliation leans towards the Republican Party, and you only invested when you were happy because the White House was occupied by a member of your party, you would have experienced even worse results (mainly due to timing issues) and you would only have $86,000.
Politics vs. Sound Investment Principles
Investing in stocks only under either a Republican or Democratic White House has historically been no match to staying invested through time.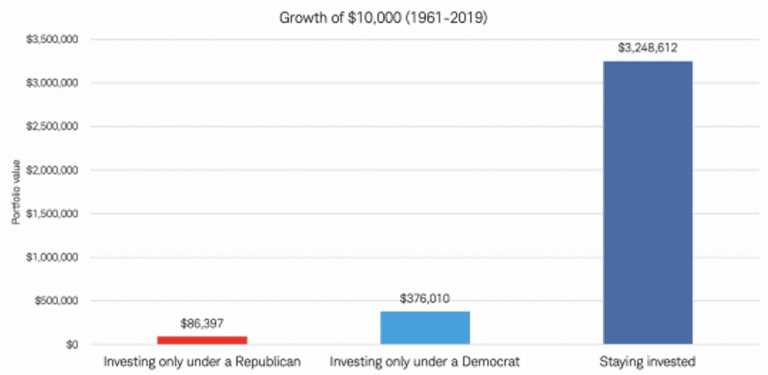 Conclusion
The bottom line is that despite the barrage of media attention elections bring, and despite your potentially strong views regarding the outcome of the election, it is vitally important that you ignore the hype and focus on implementing, monitoring, and adjusting your long-term investment strategy. The historical record bears this out, as markets have been just as likely to do well under either a Republican or Democratic administration.
Nevertheless, the outcome in November could have an impact on your finances, so in the next installment of this special series, we'll look at whether your taxes might be headed higher.
While content is derived from sources believed to be accurate, Pure Financial assumes no responsibility for statements made in this publication including, but not limited to, typographical errors or omissions, or statements regarding legal, tax, securities, and financial matters. This material may contain links to content that is available on third-party websites. Please note that Pure does not endorse these sites or the products and services you might find there. Opinions, estimates, forecasts, and statements of financial market trends that are based on current market conditions constitute our judgment and are subject to change without notice.