Has the thought of how to pay for college expenses kept you up at night? It shouldn't! Sometimes all you need is a plan and knowing what are the best options that relate to your situation. Johnson Andrews, CFP®, financial planner at Pure Financial Advisors, covers three popular college saving plans and their pros and cons: 529 Plans, Coverdell Accounts, and Prepaid Tuition Accounts.
FREE GUIDE | Download the ABCs of College Funding: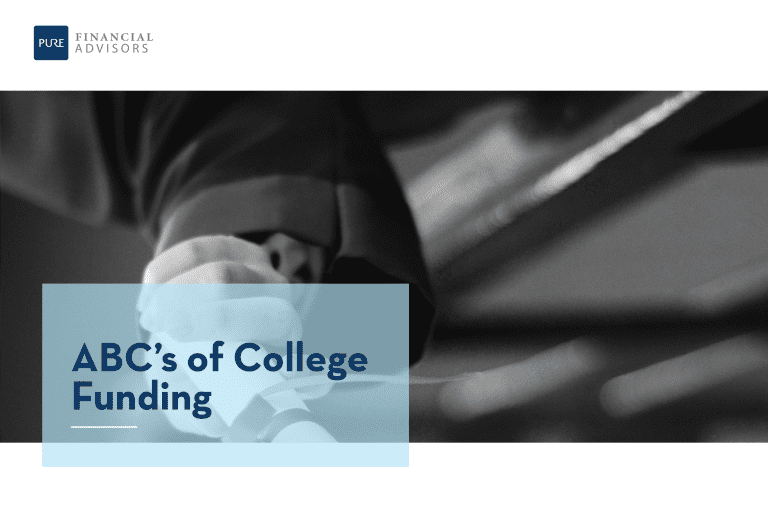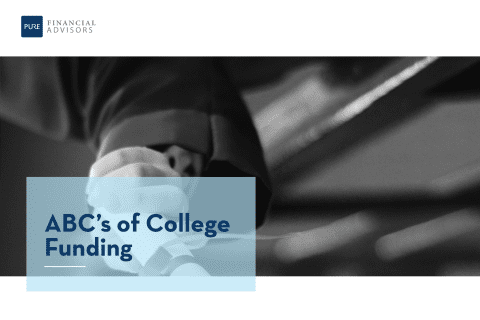 Transcript
Has the thought of how to pay for college expenses kept you up at night? It shouldn't! Sometimes all you need is a plan and knowing what are the best options that relate to your situation.
I'll walk you through what you need to know regarding college expenses and how to best prepare yourself as you approach these milestones.
At first glance, the numbers alone can be intimidating.
Average Cost of 4-Year Private College with Room & Board1 $50,770
Average Cost of In-State College Tuition: $26,000
Cost of College Degree: $200,000+
Yet, 61% of families admit they do not have any sort of financial plan to pay these looming costs.
Lets go over three of the most popular strategies to help fund these costs and the pros and cons of each:
By far, the most popular is the 529 Plan.
These are accounts that are established by each state and have the following benefits:
Any Earnings are Tax Free
Funds can be used at all eligible schools nationwide
Anyone with an income can open this account
Some cons that come along with this are:
That you must use the monies for college
The fees inside these plans can be high and carry along with that investment-related risk
Limited investment options within the plan.
Another option is the Coverdell Account. Some benefits of this type of account include
Tax Free Growth
Tax Free withdrawals
Numerous Investment Options
Not considered in Financial Aid Calculations
Some cons on the Coverdell Accounts include:
Contributions into this are based on income
There are also yearly maximum contribution limits
You can only contribute to these accounts while the kid is under 18 years old
Because of the contribution limits, it is likely that this will not be able to fund all of the college expenses
Another savings option is Prepaid Tuition. This is exactly what it sounds like. You have the ability to lock in future tuition costs.
You also won't lose money if junior doesn't attend that school
And you receive favorable financial aid treatment vs other accounts.
Some disadvantages here include that this doesn't cover many costs, it is only available to residents and there are limited enrollment periods.
Because of its flexibility and lack of contribution limits, the 529 Plan is the most used plan
Regardless of which plan you chose, you have to start building a savings plan. To do this, you have to determine how much of the annual college expense you anticipate to contribute toward their education. You can fund all of the expense, half and so on.
Developing a plan dramatically increases the likelihood that you will reach your college fund savings goals. Working with a financial planner can help you incorporate saving for your kid's college into a comprehensive financial plan and most importantly help you stay on track
Now, just like any savings goals, this is not something that you can just set and forget.
You have to check in on these goals and understand what changes need to be made. College expenses have outpaced inflation for the past 20 years and has averaged 7%. You need check your savings and investment performance and understand what updates need to be made to keep you on track.
Regardless of which investment tools you decide to use to reach your financial goals, just by putting a plan in place dramatically increase the likelihood that you will build significant savings.
According to a recent college savings indicator, people with a plan saved more than twice as much as those who didn't have a plan.
Regardless of where you are in the process, don't get paralyzed by the numbers. Start saving today!
It's academic, the earlier you start saving, the easier it will be to reach your goals.
Subscribe to our YouTube channel.
IMPORTANT DISCLOSURES:
• Investment Advisory and Financial Planning Services are offered through Pure Financial Advisors, LLC, a Registered Investment Advisor.
• Pure Financial Advisors LLC does not offer tax or legal advice. Consult with your tax advisor or attorney regarding specific situations.
• Opinions expressed are subject to change without notice and are not intended as investment advice or to predict future performance.
• Investing involves risk including the potential loss of principal. No investment strategy can guarantee a profit or protect against loss in periods of declining values.
• All information is believed to be from reliable sources; however, we make no representation as to its completeness or accuracy.
• Intended for educational purposes only and are not intended as individualized advice or a guarantee that you will achieve a desired result. Before implementing any strategies discussed you should consult your tax and financial advisors.
CFP® – The CERTIFIED FINANCIAL PLANNER™ certification is by the Certified Financial Planner Board of Standards, Inc. To attain the right to use the CFP® designation, an individual must satisfactorily fulfill education, experience and ethics requirements as well as pass a comprehensive exam. Thirty hours of continuing education is required every two years to maintain the designation.