If you looked at your statements late last year, you know that 2022 was tough for investors. The stock market, as measured by the S&P 500, declined nearly 20%.
S&P 500 – 12 Months (as of 1/24/2023)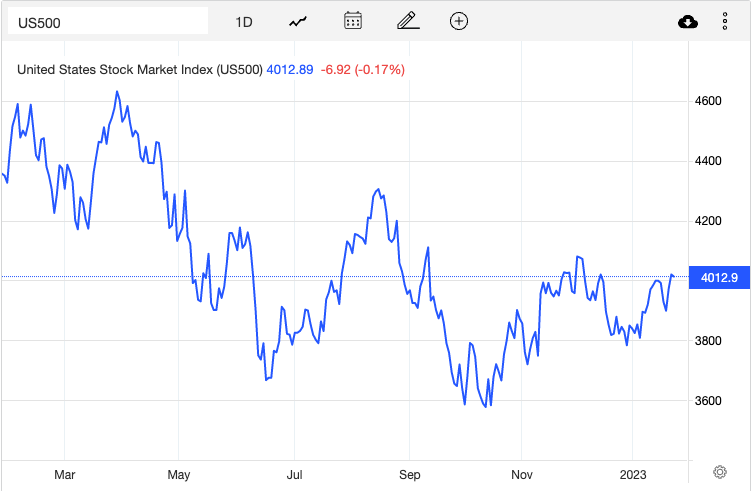 However, what made 2022 an unusual year was that even as stocks were falling, there was almost no place to hide. During the COVID bear market of 2020, the Financial Crisis of 2008-2009, or the Dotcom meltdown of the early 2000s, high quality bonds provided ballast to diversified portfolios, giving investors a source of stability during volatile periods. In contrast, 2022 featured the worst bond market performance on record, with the Bloomberg Barclays Aggregate Index falling approximately 14%.
S&P Intra-Year Declines vs. Calendar Year Returns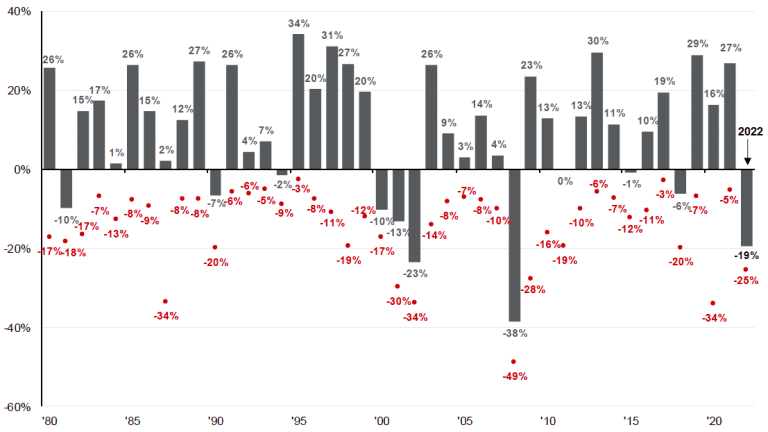 Is the 60/40 Portfolio Dead?
The combination of falling stocks and falling bonds called into question whether diversified portfolios still make sense. For instance, a mix of 60% in the S&P and 40% in the Barclays Aggregate would have declined by 16% last year, one of the worst performances on record.
60/40 Returns Since 1950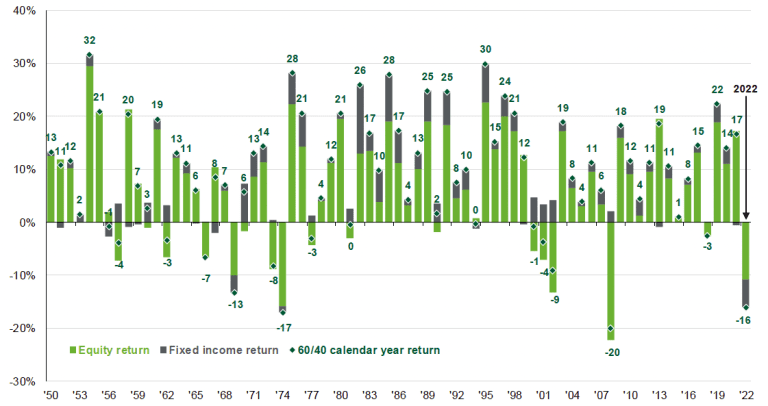 But look at the chart another way. Look at how many years the blended portfolio produced positive returns and how infrequently it posted declines. Successful investing is an exercise in probabilities; no strategy works all the time. The goal is to find strategies that work more often than not, properly control your downside risk, and then stick with the strategy over time. The chart above fulfills those requirements. That is not to say that a 60/40 mix is right for most people. That particular blend is used here just for the purposes of illustration. But the bottom line is that having a combination of various asset classes makes sense for most people – unless they have a crystal ball!
Why Not Pick a Single Asset Class?
Well, again, if you have a crystal ball, you should just pick whatever asset class is going to do best next year. But look at the chart below, which stack ranks various asset classes each year in order of their performance.
Asset Class Returns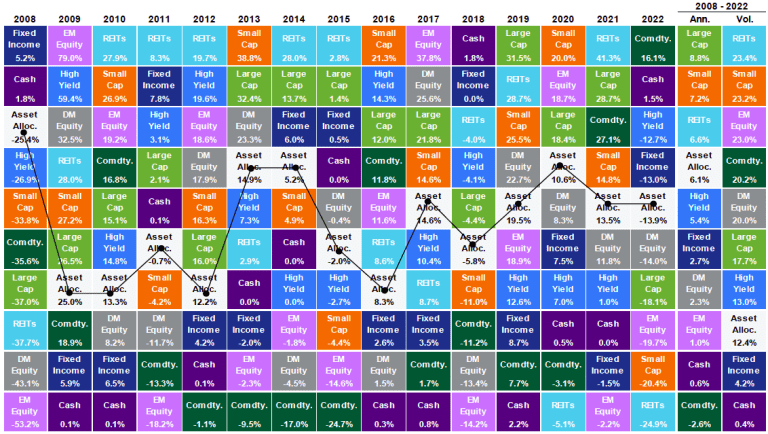 The takeaway, if you are looking for one, is that there is no particular pattern. Just because something did well one year doesn't give an indication of whether it will continue to do well. Similarly, poor performance can lead to either continued weakness or a significant rebound. You can see the black line marked "asset allocation" running through the chart. Its performance is never the best, but importantly, it is also never the worst. That blended return, with a risk level you can live with, is often the key to meeting your financial goals.
Beware of Sector or Single Stock Risk
Even within an asset class, diversification makes sense. Consider the stock market. The technology sector was the top performer for several years running, leading many investors to concentrate their holdings there.
Then this happened:
For the twelve months ended 1/3/2023, the seven largest tech stocks fell an average of 48%, while the Dow Jones Industrial Average fell approximately seven percent.
Different types of stocks also perform differently. For instance, in 2022, Value stocks (the left-hand column below marked "V") significantly outperformed Growth stocks (the right hand column below marked "G".) This isn't always the case of course (though Value stocks have posted higher returns across time), and so it makes sense to incorporate both Value and Growth stocks in a portfolio, as well as Small and Large companies (the "S" and the "L" in the table below.)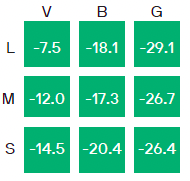 Does Global Investing Still Make Sense?
What about global diversification? Does it still make sense to invest abroad following an extended run of outperformance by U.S. stocks? Well, for starters, consider some of the great companies not domiciled in the United States:
Nestle
Novartis
Toyota
Unilever
LVMH
BHP
Sony
SAP
Because those companies are in other countries, U.S. centric investors would miss out on their future growth. Additionally, over time foreign markets and the Untied States tend to rotate periods of outperformance. For instance, look at the COVID year of 2020: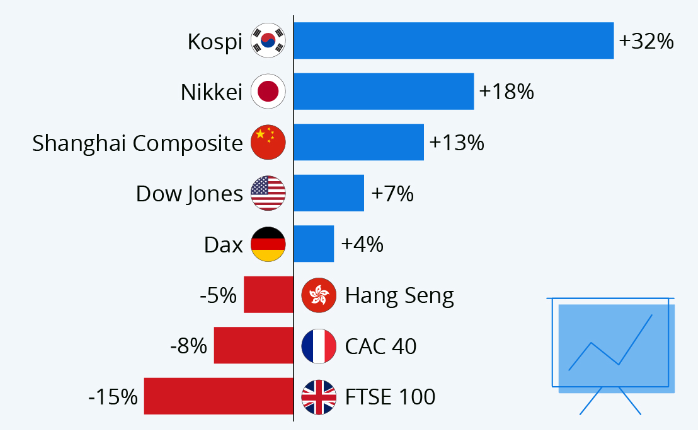 While the U.S. market managed to post positive performance despite the pandemic, there were other countries (Korea, Japan, China) that did better. And there were countries (France, Britain) that did worse. The point is that having exposure around the globe allows you to participate in the long-term growth of more companies, as well as in a wider variety of countries and markets. Again, as with any diversification strategy, this may not produce the absolute highest returns, but it can provide cushion against extreme lows while also potentially reducing volatility.
So What's the Bottom Line on Diversification?
The bottom line is that even following a difficult year for most asset classes, diversification still makes sense for investors with a long-term time horizon. No, diversification won't produce the highest returns. Having a crystal ball, and consistently picking the single best stock, asset class, or country will do that.
But since almost no one has the ability to perfectly predict the future, for most people diversification makes sense. Sure, that approach might lower the bar on potential returns, but it also raises the floor and guarantees you won't be concentrated in the worst performing market, sector, or security.
For most people seeking a path to financial success, achieving reasonable returns with a moderate amount of risk provides an approach they can stick with over time. And that, in turn, dramatically increases the odds of meeting their financial goals.
Data as of  January 2023.
Intended for educational purposes only. Opinions expressed are not intended as investment advice or to predict future performance. Past performance does not guarantee future results. Consult your financial professional before making any investment decisions. Opinions expressed are subject to change without notice. References in this material to any specific security do not constitute or imply endorsement, recommendation, or favoring by Pure Financial Advisors, LLC nor its employees.