Placing your assets into the hands of a stranger can be a little intimidating, and you might not know who to trust. This feeling can be compounded by the fact that you may have little knowledge of the financial services industry and may not have been raised in a household where financial matters were addressed openly. You know you want to deal with an ethical, experienced and educated professional who does not have conflicts of interest to help you reach your financial goals, but it's difficult to know if the advisor you're considering is a good fit.
After the infographic, more details on the six important questions to ask your advisor before taking the next big step.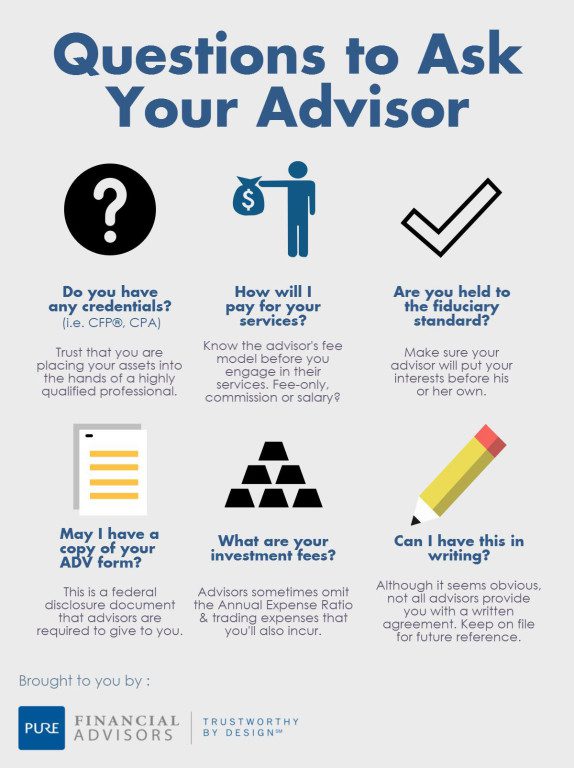 Do you have any credentials?
The advisors you consider may have credentials such as professional designations. In the field of financial planning, the CFP® ("Certified Financial Planner Professional") designation is one recognized standard credential that ensures those who hold it have met specific requirements for ethics, education, experience, and examination. This means that an advisor holding the CFP® designation has passed a background check, completed prerequisite training prior to being allowed to sit for a rigorous and comprehensive exam, and has also met experience requirements in a relevant role. After receiving the designation, Certified Financial Planner Professionals must meet continuing education requirements and ethical standards in order to maintain the designation.
There are other financial industry designations, some of which are respected, although many designations require little more than payment of a fee to the issuing body. If you come along a designation you are unfamiliar with, look it up at the FINRA professional designation database.
How will I pay for your services?
There are a few ways your advisor may be compensated. Let's look at the most common:
Commission: An advisor receives a commission from the sale of products, such as insurance and investment products. Depending on the specific product, you may or may not see the amount of commission received by your advisor.
Fee: You pay fees to the advisor for services performed. This may include compensation for financial planning or asset management. Fees can be paid directly or deducted from investment accounts. They can be based on hourly rates, the amount being managed, or a retainer/subscription-based model. No matter how your fees are structured, it's important to understand that they are paid by you, not by a third party in the form of a commission. This increases transparency and avoids incentives to offer products with high commissions.
Some advisors charge both commissions and fees, often referring to their practice as "fee-based." A fee-based advisor may still receive commissions in addition to fees, but an advisor marketed as "fee-only" may not have commissioned business as well.

Are you held to the fiduciary standard?
An advisor who acts as a fiduciary is required to place the client's best interest above their own, acting in the way a prudent person would if acting on their own. This is a higher standard than the "suitability" standard that some brokers are held to. With the fiduciary standard, an advisor is required to act in the best interest of the client. With the suitability standard, investments must be generally suitable for the client's needs, although there may be less protection against conflicts of interest.
May I have a copy of your ADV form?
The form ADV is submitted to the SEC by investment advisory firms. You will generally be presented with the ADV II, the portion written in plain English that describes the firm's background, types of services offered, fees, charges, and potential conflicts. A supplement (ADV 2B) may be presented for any Investment Advisor Representative meeting clients on behalf of the firm.
You can also search by firm name at the SEC Investment Advisor Public Disclosure site.
Not all financial advisors are registered as investment advisors. Those who only sell commissioned products and do not perform fee-based services may be registered as a representative of a Broker Dealer at FINRA. You can download a firm or individual "broker check" report for those who do commissioned business at FINRA's Broker Check site.
What are your investment fees?
You should ask if your advisor is compensated by commission, fee or both. If fee-based or fee-only, how are the fees calculated? This can be hourly, on a retainer, or based on the assets being managed.
You will also be responsible for charges incurred at whatever custodian your investment advisor uses to hold your funds. These may include trading costs, annual account fees, trade confirmation fees or other expenses you should confirm.
Can I have this in writing?
Not all advisors provide the information we've addressed so far in writing automatically. You should ask for documents regarding these topics, not only to assist you in the decision to hire a specific advisor, but for future reference as well.