Should you purchase long-term care insurance? Long-term care insurance policies provide coverage for people who need long-term care either in a facility or in their home.
In this video, Pure Financial Advisors' Financial Educator, Jason Thomas, CFP® lays out the basics when it comes to long-term care and describes some pros and cons when deciding on if you should purchase long-term care insurance.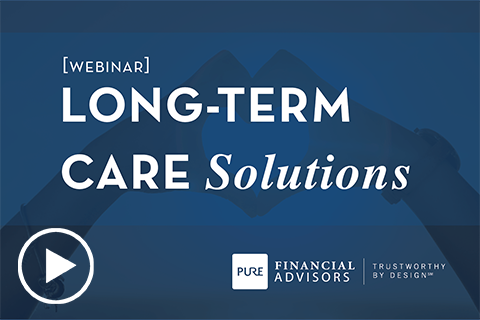 Transcript:
Long-term care insurance policies provide coverage for those that need assistance with daily tasks either in a long-term care facility or in the home.
There are six activities of daily living or ADLs that are relevant to long-term care policies. They include bathing, dressing, transferring (that's getting from the bed to the chair, or the chair to the wheelchair, for example), toileting, maintaining continence, and eating.
If someone cannot perform two of those tasks or needs to be monitored to prevent injury when performing at least two of them and a physician certifies this, that is when most long-term care insurance policies kick in.
There are a couple different ways that you can purchase a long-term care insurance policy. The first type of policy is a stand-alone long-term care policy. That just means that it only covers long-term care. This is probably the most common option for many people. You'll get a quote, and it will be customizable to your situation for the maximum amount of coverage per day, throughout the policy overall, as well as any features such as inflation protection that you might have the option to add. The upside of a stand-alone long-term care policy is that they can be fairly robust and customizable based on the quote that you prefer for your situation and budget. The downside is that they can be fairly expensive overall and they can be difficult to get underwritten for. So keep that in mind.
This is one of the reasons why many applicants also consider hybrid policies. Those are policies that couple long-term care with another insurance need. You may for example purchase a life insurance policy that has the option to add coverage for long-term care through what's called a rider. That's just a fancy term for a part of an insurance policy that can be optionally added. The advantage of the hybrid policies is that they might be less expensive than purchasing each type of insurance on their own. The downside is sometimes the coverage might not be as robust or comprehensive as purchasing those policies independently.
Thanks for listening today and please come to PureFinancial.com for more information.
For more useful information about long-term care, click to listen to our podcast.