Are you preparing to apply for your Social Security benefits? Follow along in this step-by-step walkthrough of how to apply for Social Security and when the best time is to do so.
There are several different ways to apply and don't forget about applying for retirement, spousal, and Medicare benefits as well. Learn all the information you need to set up your account with the Social Security Administration to receive your benefits in this short webinar.
How to Apply for Social Security
We will cover how to apply for Social Security retirement, spouse's, and Medicare benefits. Before we get started, you should know that you have to be at least 61 and 9 months to apply for retirement benefits.
You should also know that even if you do apply for your benefits to begin at a later point, you should apply for Medicare three months before you turn 65.
You'll need to have information ready regarding yourself, your work, and potentially additional documents.
You have a few ways to apply:
1. By phone
That's 1-800-772-1213 or for TTY users, 1-800-325-0778.
2. At the Nearest Social Security Office
You can also apply your nearest Social Security office, although you should call first to make an appointment since the lines can be fairly lengthy. if you're located outside the United States and its territories, you can also go to your nearest U.S. embassy or consulate for assistance in applying for Social Security benefits.
3. Online
You can also use the Social Security retirement and Medicare benefit application to apply for retirement, spouse's and Medicare benefits. But before we get to that, there is one thing that you should do first, and that is to create an account at SSA.gov.
So go to SSA.gov, and at the top of the page you'll have the option to log in or sign in, depending on whether you already have an account or not. Go ahead and do that. Once you've logged in and passed the Terms of Service disclaimer, you'll have the ability to review your estimated earnings. This will be at your regular full retirement age, as well as your estimated benefit for taking early, or for deferring your benefit up to age 70.
Before you apply for your benefit, you should fully examine your options as they relate to the financial impact of taking your benefit at a particular time. This is especially true if you're considering taking your benefit earlier than full retirement age and you still intend to work. This can have additional tax consequences that you'll want to review beforehand.
Once you're ready to apply, you can go to ssa.gov/retireonline. When you get to this page you'll see a list of items that you'll need to have ready, and you should check that list and print it out if this is your first visit to the site.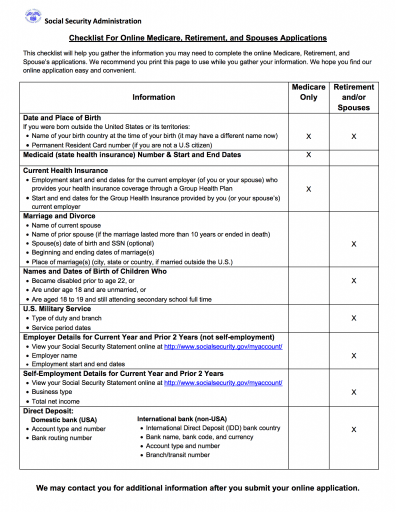 Once you have all of your information available, you're ready to begin.
You can either start a new application or continue an existing application.
Once you get started, the application is fairly short. Most people spend about 15 minutes, but you're not required to complete it in a single setting. If you don't, you'll be given a re-entry number. Please write this down or print it out, because you'll need it to get back in. If you misplace your re-entry number, you will need to start again from the beginning.
As you near the end of the application, you will have the opportunity to write notes in a section labeled "annotations." You should take the opportunity to do this so that your wishes are explicitly stated and the Social Security representative that's looking over your application before contacting you will have the opportunity to make sure that what your desired goal matches with your application. This is especially true if you're using a less common application strategy.
Once You Are Finished Applying
Once you've completed the application, you can sign electronically if you're completing the application for yourself. But if you're helping someone else complete the application, do not sign electronically. It will be mailed to them in order to sign themselves and dropped off at the nearest Social Security office.
Remember the account that we created earlier at SSA.gov? You can check your application status there. And please be aware that someone from the Social Security Administration may be in contact with you to get additional details regarding your application.
How to Recieve Benefits
New applications for Social Security benefits will no longer result in payments by physical check. You will need to select one of two different electronic payment options. Either you can have deposits made to a bank account of your choice by providing a routing and account number, or you can elect to participate in the Direct Express program, where you get a debit card and it's loaded with your funds monthly.
How to Apply for Social Security Disability Benefits
The instructions that we've given thus far have been for retirement, spouse's, and Medicare benefits. They do not relate to applying for Social Security disability benefits, which is a different process. If that's what you're interested in, go to SSA.gov/applyfordisability. You, however, wish to use a Social Security disability advocate or attorney who specializes in that area. They will be able to assist you with the application process if you choose to work with them.