Identity Theft Webinar Recap
What is Identity Theft?
Identity theft occurs when someone fraudulently obtains your privately identifiable information, usually for purposes of financial gain.
Identity theft is one of America's fastest-growing crimes, however many people learn about identity theft after it's too late. There are thousands of articles and resources for how to recover from identity theft after one falls victim, but it's even more important to become educated before it happens.
How to Protect Yourself From Identity Theft
There are several ways to protect yourself from identity theft. Managing your devices with an eye on security is an important strategy.
Protecting your passwords is also important. This includes choosing strong passwords, changing frequently, and not using the same password for multiple accounts.
Avoiding internet connects that are unsecured can also help protect your identity.
Keeping your personal information private on social media sites is also important. This is especially the case when you have accounts that are not set to private.
You should also delete any emails containing financial information once they are no longer needed and review all financial statements as soon as received to ensure activity is legitimate.
There are several ways to protect your identity in order to decrease your chances of becoming a victim. Our wealth management firm teamed up with Identity Theft Resource Center (ITRC) to host a webinar to educate attendees on best-practices for protecting your identity. ITRC is a non-profit organization established to support victims of identity theft, and to broaden public education and awareness in the understanding of identity theft, data breaches, cybersecurity, scams/fraud and privacy issues. For more information, check out our identity theft checklist.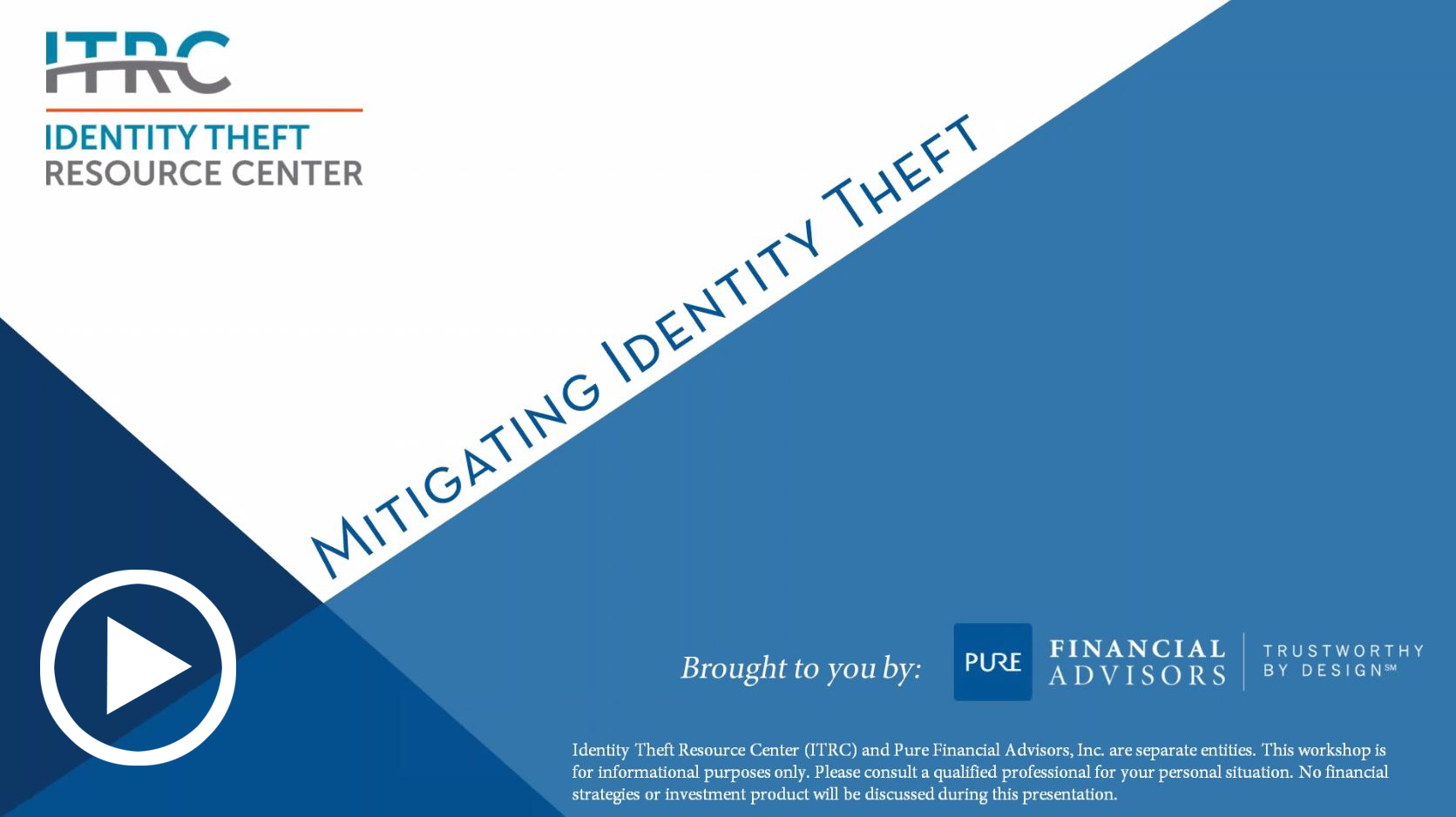 Key Learnings from the Identity Theft Webinar
Protect Personally Identifiable Information ("PII")
Use Strong Passwords and be sure that you update them frequently. Also, avoid using the same password for multiple accounts.
Be aware of "Phishing" and use care with email accounts. Avoid responding to email requests for personal information from unverified sources.
Avoid transmitting information on unsecured networks. Your information may be picked up by those accessing the network.
Review your statement as soon as received to confirm activity. When you see activity you don't recognize, call your financial institution immediately to either confirm the transaction or potentially report it as fraudulent.
Password Protect Smartphone and Tablets. There is likely more personal information on your smartphone than in all your physical documents combined. Safeguard this information with a password, easy to do on both Android and Apple devices.
During the webinar, Matt Davis of ITRC, explained the various types of identity theft, how thieves obtain information and provided a detailed list of steps you can take to prevent yourself from becoming a victim.
Identity Theft Webinar Q&A
We received a few questions from viewers during the webinar that we were not able to answer during that time frame. Here are the questions along with the answers provided by Matt Davis of the Identity Theft Resource Center.
My Medicare card has my Social Security Number (SSN) on it. Most of us carry the card in our wallet/purse. Any suggestions?
A:  Yes, take it out.  If you must carry it, consider carrying a copy of the card with all the numbers except the last 4 blacked out.  Only carry the original card on days when you visit the doctor's office.
My wife puts everything on Facebook. What are the things (data) NOT to do?
A: The most important thing is that you spend time reviewing the privacy settings to have an understanding of who can see what things you post. Travel patterns and purchasing habits are two big things that stand out, but really just take the time to customize your privacy settings so you limit who can see the things you post. You may call the Identity Theft Resource Center to have a longer conversation if you're concerned.
Do I have to shred my name on all mail addressed to me?
A: No – only mail with personally identifying information. Ask yourself "if a total stranger dug through my trash and took this piece of mail, would that leave me at risk?"  If the answer is no, you can probably just throw it with the rest of the trash. However, if it has bank account numbers, Social Security information or other sensitive information it behooves you to shred it.
How do you feel about a medical wallet information card that has my name, phone numbers for emergency contacts, doctor information and medications?
A: As long as the Social Security Number isn't listed I think it's perfectly fine to carry that with you.
Can you give the "opt out" 888 phone number again for credit card offers? 
A: 1-888-5-OPT-OUT