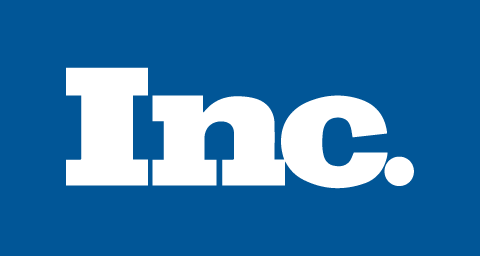 Pure Financial Advisors has been named to Inc. Magazine's 2021 Best Workplaces list. Pure Financial Advisors has been named a winner in the Established Excellence: 5-14 years in business, Medium: Employee size 50-99 categories.
Inc. magazine today revealed that Pure Financial Advisors has ranked on its 6th annual Inc. 5000 list, ranking as one of the best companies to work for in America.
This list ranks the 429 best companies to work for in the U.S., "highlighting the companies winning employee engagement and creating a great culture for their employees."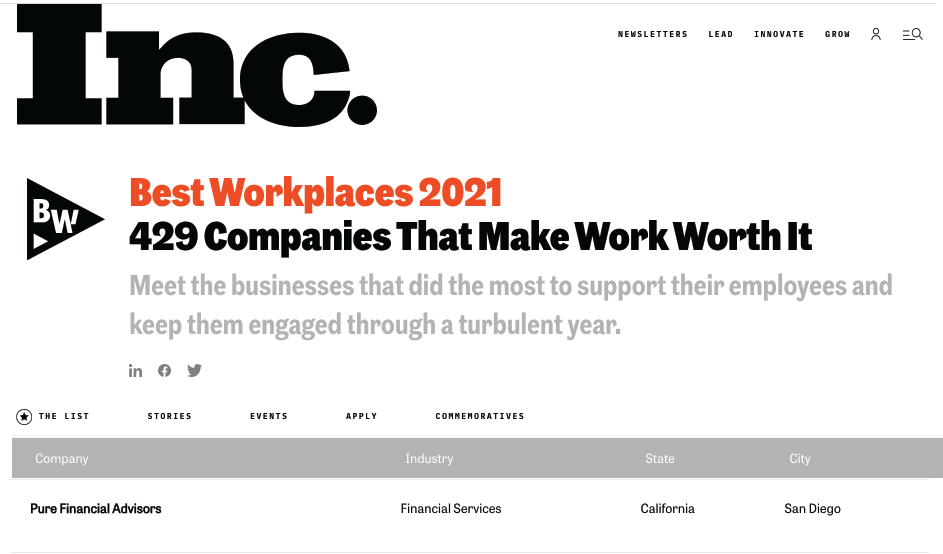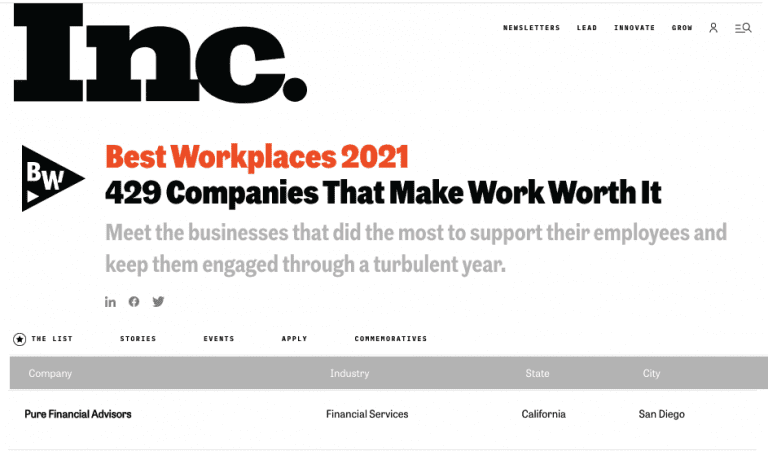 Company Stage: Established Excellence, Company Size: Medium (2021)
"We provide a strong work-life balance at Pure Financial Advisors and provide support for our employees to grow within our company. Employee benefits at Pure Financial Advisors include free financial services and access to a gym. We value the voices and opinions of everyone on our team and encourage communication across departments with weekly department and management meetings."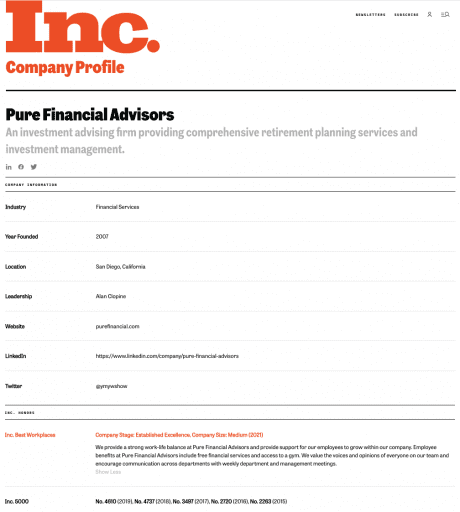 About Pure Financial Advisors, LLC
Pure Financial Advisors, LLC is a fee-only Registered Investment Advisor providing comprehensive retirement planning services and tax-optimized investment management. Pure opened doors for business in 2007 with a mission to provide financial planning services using salaried planners in order to minimize the conflict of interest between the advisor and client. A pure business model was the vision and Pure Financial Advisors became the reality.
Pure Financial adheres to the fiduciary standard of care in which they are required by law to act in the best interest of their clients at all times. Using a holistic planning approach, Pure Financial currently manages over $3.29 billion in assets (as of March 29, 2021) and services clients across the nation with offices in San Diego, Orange County, and Los Angeles.
Pure Financial invites you to experience The Pure Difference today.
The Best Workplaces honorees must first complete a company application and pay a processing fee. Then a company audit is done by completing the survey setup questionnaire through Quantum Workplace and an employee survey with a minimum level of employee participation to be eligible as a finalist. Companies were required to meet a minimum score on both. The minimum scores needed were based on outcomes and size category from applicants for 2021.