Pure Financial Advisors Seattle – Mercer Island
Pure Financial Advisors has acquired Kaufman Kampe Advisors, a Seattle-area RIA. As part of this transaction, Lori Kaufman, CFP®, and Valerie Kampe, CFA®, have joined Pure Financial, where they continue serving their existing clients while also assisting in the expansion of the combined business' presence in the fast-growing Pacific Northwest region. Read the full press release.
Kaufman Kampe Advisors was founded with the idea of providing Smart Investment Solutions to individual investors. Founders Lori Kaufman and Valerie Kampe saw that sophisticated planning and investment techniques were not always available especially with a high level of personal service. It is the mission of Kaufman Kampe Advisors to offer this unique combination of expertise and accessibility to our clients.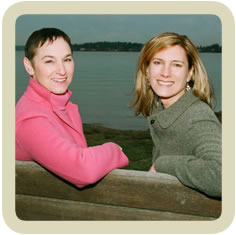 Lori Kaufman, CFP® co-founded Kaufman Kampe Advisors to bring the benefits of her institutional knowledge to individual investors. As a top-level investment executive with over 25 years of experience in asset management and financial planning, she has served both institutional and high-net-worth clientele. Lori is a past member of the TIAA-CREF Board of Financial Advisors and the Board of Directors for FinanceXpert. She currently serves on the Seattle Symphony Foundation's Investment Advisory Committee. She also is a member of the Financial Planning Association and the CFA Society of Seattle.
Lori previously served as Chief Investment Officer for Laird Norton Tyee after holding a similar position at Northwestern Mutual Trust Company (an affiliate of Northwestern Mutual Life). Earlier in her career, she held several senior executive positions with Russell Investments, including Vice President of Manager Research, Senior Portfolio Manager, and Director of Alternative Investments. Lori also provided strategic corporate and consulting services while at Deloitte Consulting and Ford Motor Company.
Lori earned a Master of Business Administration degree in Finance from the Wharton School at the University of Pennsylvania and a Bachelor of Arts degree in Asian Studies from the University of Michigan. She is a Certified Financial Planner™ professional and holds a Series 65 license. In addition to her native English, she speaks Mandarin Chinese and French. Lori is an active volunteer for Team Survivor Northwest and the American Cancer Society's Reach for Recovery program. Outside the office, she enjoys hiking, skiing and cycling with her husband.
Valerie Kampe, CFA co-founded Kaufman Kampe Advisors in 2007. A Chartered Financial Analyst since 1992, Valerie brings more than 20 years of expertise to Kaufman Kampe Advisors. Her experience ranges from pension consulting to money management to corporate finance. She is an active member of the CFA Society of Seattle and the Financial Planning Association.
Before co-founding Kaufman Kampe Advisors, Valerie was a Principal and Senior Portfolio Manager at several Seattle "buy side" firms, including Sirach Capital Management, Badgley Phelps, and The Harris. She has managed equity and balanced portfolios for private and corporate clients and mutual funds. Valerie also has developed quantitative models to support tax management strategies, multi-generation trust distribution policies, and to evaluate portfolio performance.
Prior to these portfolio management roles, Valerie spent seven years at Russell Investments, researching investment managers, consulting to large public and corporate pension plans, and rebuilding and enhancing quantitative tools. From 2000 to 2002, she left the investment industry to become the Chief Financial Officer of Rhodes Architectural Stone, an international manufacturing company based in Seattle.
Valerie earned a Bachelor of Science degree in Economics from the Wharton School at the University of Pennsylvania, with a specialization in Finance. Valerie is a member of the Investment Advisory Committee for the Seattle Symphony Foundation, and the Past Treasurer of the Boards of Trustees of Lake Washington Girls Middle School, the Seattle Academy Parents Association, Spruce Street School, and Green Tree Early Childhood Center. A fifth-generation Seattleite, Valerie practices yoga daily, and she enjoys traveling and skiing with her family.